Casino Time Booking Activity!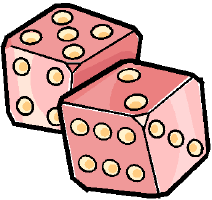 Proven to increase bookings from bookings!
Should be played with EVERY type of party presentation!
Pre-requisites:
Positive, relaxed, confident and open attitude!
The courage to try it more than once!
What to say:
Ladies, this is an optional game to help our hostess. If you are going to book a party then you definitely want to play, if you are thinking about having a party than you probably should play, if you absolutely do not want any free gifts or have a fun evening with a few of your friends then you definitely do not want to play.
Play your activity!
Casino Time: Pair of dice (2 die). Roll a 3-9 and itís party time! Roll a 10,11, 12 or 2 and I have a gift for you! (carry small basket of gifts to award). You may entice guests to roll dice and take a chance by offering auction $$$!